Last Will and Testament in Spring Hill, FL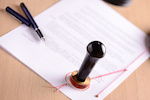 A will is a crucial aspect part of any estate plan. It ensures that your affairs are in order before you pass away. You'll find that the Law Office of James R. Jones Jr., P.A.  is committed to fully addressing your estate planning needs. We draft a last will and testament in Spring Hill, FL, based on your wishes to secure a stable future for your spouse, family, and other loved ones.
Death is a difficult topic to discuss. For this reason, many people do not consider drafting wills before they die. Mr. Jones and his staff don't want you to make things harder for your family. After all, the last thing you want is the court system involved in the process after you die. That's why we help you legally document your wishes and streamlines the process for your heirs.
Why Create a Will?
Creating a will is one of the best things you can do for your loved ones. From a simple will to a joint will or a pour-over will, our wills lawyer is skilled at drafting the perfect will to meet your needs and wishes. When drafting your will, Mr. Jones uses clear language and the proper legal terms to accurately describe your wishes.
Drafting a will by yourself may seem easy and affordable, but it can prove costly in the long run. Many times, do-it-yourself wills do not hold up in the court of law, because they do not contain important legal details. Fortunately, you do not need to worry about a problematic will or pay a fortune for an experienced wills attorney. We give you peace of mind by providing comprehensive and tailored will drafting at affordable rates.
Experienced Probate Lawyer
Probate is the legal process that takes place after a death to pass title to assets and resolve any outstanding debts. We strive to achieve the equitable resolution of any disputes when reading a will after a loved one has passed. Mr. Jones guides you through the entire process. We determine the best course of action to protect your interests, alleviate any anxiety you may have, and respect your deceased loved one's wishes.
Our firm provides wide-ranging legal counsel and representation for clients throughout the area in need of legal support with all aspects of trust and probate. Our firm has worked hard to achieve a reputation for robust, astute and effective representation. Mr. Jones is committed to working closely with each and every client we serve. By doing so, our staff is able to put together an effective legal plan, fulfilling your needs and accomplishing your objectives.
Contact us today to start creating your own last will and testament. We proudly serve clients in Spring Hill, Florida, and surrounding areas.